Here are animals our donors and partners have helped save
With your help, we can continue to help more animals
Daisy
Daisy was in dire need of surgery because she ate a rubber bouncy ball that was too big to pass through her intestines. Without surgery, intestinal obstructions are fatal conditions and Daisy was getting worse day by day. Her owner was denied care due to lack of finances and contacted the HANA fund for help. Coastal Animal Hospital was able to remove the intestinal obstruction and get Daisy back to feeling well.
Ella
Ella was denied care at another hospital due to severe financial constraints. Her tail had a severe wound and after 2 weeks the tail was dying and the infection was starting to spread. Her owner reached out to us and with the HANA fund we were able to amputate her tail. She now has a cute little stump and is doing great!
Decker
Decker was adopted by a loving family when she needed a home. Soon after Decker started acting lethargic and they scheduled an appointment with Dr. Evans. Dr. Evans soon discovered that she had a high fever and she was really tender on her abdomen. An abdominal ultrasound revealed she had a pyometra (an infection in her uterus) which is a life threatening condition. As much as the family loved her, they didn't have the resources to pay for the emergency surgery and were considering euthanasia. The HANA Fund and Coastal Animal Hospital were able to step in and provide the financial assistance and save Decker's life!
January 2017 Wellness Clinic
Our first wellness clinic was a success. We treated, at no cost to the families, 35 pets, administered 82 vaccines, performed 25 heartworm tests, prescribed 210 doses of flea control and 150 doses of heartworm and intestinal parasite medications, all over a 5 hour period on a beautiful Saturday morning. Thank you to all of the volunteers at Coastal Animal Hospital and Rancho Coastal Humane Society for their hardwork and dedication.
Classroom Presentation
Dr. Bishop of Coastal Animal Hospital gave a presentation about the HANA Fund to 2nd graders at Olivenhein Pioneer Elementary School. The second grade class holds fundraisers throughout the year and donates money to a charity of their choice and they chose The HANA Fund!
Chilly
Chilly was our first recipient of the HANA fund. He came to us with severe skin allergies and an owner who could no longer care for him. We took him and and got his skin back to health. We loved the little guy so much we couldn't let him go. He was our official hospital greeter for 4 years (28 cat years) and is now retired at our hospital manager's home.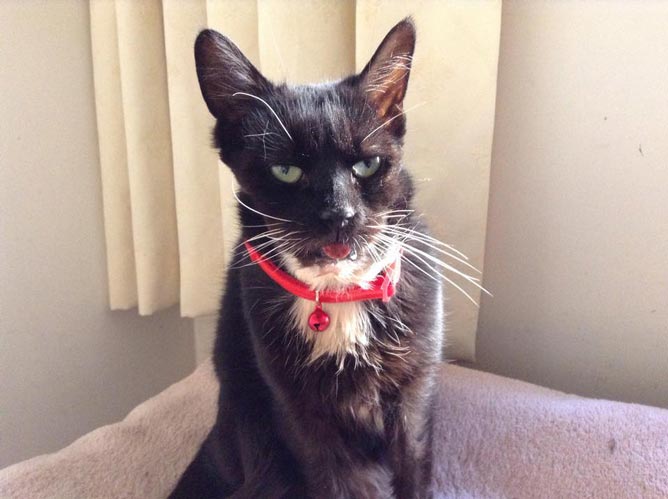 Cinderella
This kitten came to us unable to eat and in severe pain from a fractured jaw. After her owners were turned away from another hospital, the HANA Fund stepped in and Coastal Animal Hospital was able to wire the jaw back together and provide her the care that she needed.
Gabby
After trying to dissolve Gabby's large bladder stones with a special diet with no success, her only option was surgery. She was unable to hold her urine (since her bladder was 90% filled with stones!), had a chronic infection, and was very uncomfortable. Unfortunately Gabby's owner could not afford the surgery on her social security income. The HANA Fund was able to step in and provide the funds necessary to remove the bladder stones and allow her to feel comfortable again for the first time in months!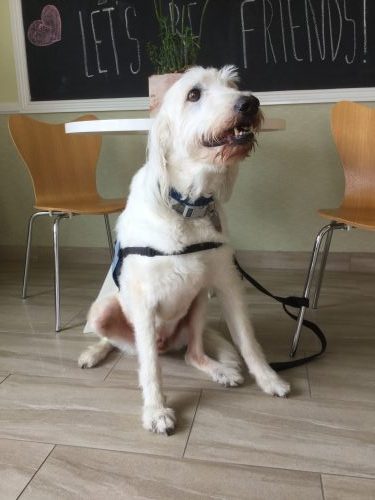 Rocky
A service dog his entire life, Rocky has helped his owner through thick and thin. There are countless stories about Rocky helping up his owner when she has fallen and unable to stand up on her own. When Rocky's own leg became injured and painful to the point that he was unable to use it, not only was it a problem for Rocky, but also an issue because he could no longer help his owner in times of trouble. The HANA Fund was proud to be able to donate funds to help Rocky receive the treatment he so desperately needed to get him pain free and walking again.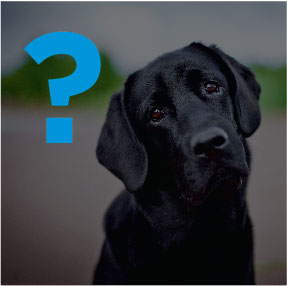 ???
We don't know who the next animal will be, but we do know there will be another animal who needs help and with your donation, we can make sure they get the treatment they need. Please donate today.
Sunni
Sunni is an adorable puppy that came to us hours away from death with a severe parvo infection.  She needed intensive hospitalization and care and because of the generous donations made by our clients, she made her way to a full recovery. Once she was back to full strength, we found her a loving forever home.
Raven
Raven was adopted from a local shelter. At the time of adoption, Raven had a tumor which was presumed to be a benign growth. Unfortunately, this mass started rapidly growing soon after adoption and her owner was not in a financial position to afford the surgery her new rescued dog needed. If the tumor continued to grow, the lower leg would have likely needed an amputation to adequately remove the growth. The HANA Fund was able to assist and now this family will be able to love their new dog without worrying about the possibility of amputating her leg.
Stray kitten
This stray kitten was found in the middle of the street at Leucadia Blvd and El Camino Real. A Good Samaritan found him and brought him in to Coastal Animal Hospital for care. He was found to be in very poor condition and have major head trauma with fractured teeth. In the days following his rescue he also started developing seizures and his recovery was in question. After continued supportive care, help from a dental specialist at Pacific Veterinary Dentistry, this little kitten has made a spectacular recovery and found his forever home.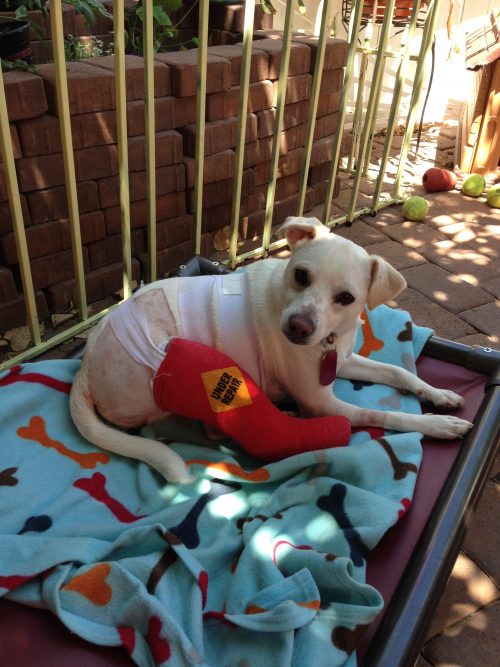 Ace
Through our friends at Lucky Pup Rescue, Ace was brought to Coastal Animal Hospital for a sudden onset of being unable to use his leg. The veterinarians quickly diagnosed Ace with an uncommon condition where the patellar tendon ruptured off of Ace's tibia, making his leg completely unable to bear weight. His two options were to have the tendon repaired (an expensive and difficult undertaking) or have his leg amputated to prevent further pain and suffering. Through the HANA Fund's contribution and coordination with Lucky Pup, Ace was able to have the tendon repaired at Veterinary Specialty Hospital and is now on the road to recovery.
Give today and help us save more animals lives